Podcast: Play in new window | Download (39.7MB)
Learn why carbon is the foundation of all life on Earth as we investigate a chemist's suicide, death by air pollution, and one very, very cold murder case.
Featured above: Stanley Miller photographed next to a replica of his famous experiment he conducted alongside Harold Urey.
Bonds, Covalent Bonds: As promised, here's a video from FuseSchool that does a pretty good job explaining covalent bonding, doesn't get caught up explaining other types of bonds, and has some helpful visualizations.
It also mentions the Octet Rule, which can be helpful, but it's not really a "rule" since not all elements abide by it. I didn't want to confuse the issue by mentioning it in this episode, but if you just keep in mind that the Octet Rule only applies to the first twenty elements, for the most part, you'll be fine.
Sadly, this video doesn't include carbon as an example. Carbon, with six total electrons, including four in its valence shell, needs four more electrons to fulfill the Octet Rule.
Carbon actually can't acquire those four electrons by bonding with a single other atom, so I can see why FuseSchool didn't use carbon as an example here! (It can get those electrons by bonding with *two* [or more] other atoms, including two other carbon atoms. This is one reason why the element has a propensity to form long chains.)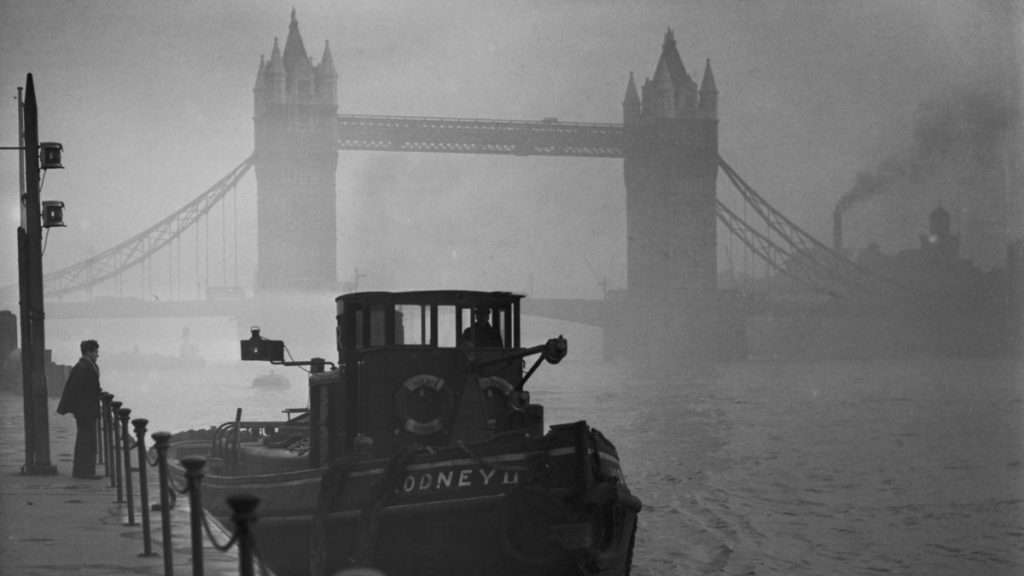 The Great Pea Souper: Above, London's Tower Bridge during the Great Smog of 1952.
io9 has a great collection of photos of smoggy London from various times in the 20th century, including the Great Smog of 1952. It's hard to imagine living under those conditions 24 hours a day. Particularly telling is the photograph of an air filter after one night's use.
We Didn't Start The Fire: Centralia, PA is a coal town — or was. Now it's a ghost town, thanks to a fire that's been burning underground for more than half a century. Vsauce3 produced a bite-sized documentary that shows the effects of burning coal in a microcosm.
Whatcha Gonna Do With All That Trunk: Trees are among the largest living organisms on Earth, but we don't often think about where they acquire the matter that gets converted into "tree." The superb YouTube channel Veritasium takes a look at some common misconceptions in this short video:
Click To Read Transcript
Sources